Cycle biologique de Neurospora crassa
---
Neurospora crassa est un champignon ascomycète. Le cycle est hétérothallique à prédominance haploïde = cycle à phase haplobiontique dominante. Les hyphes ont une structure syncytiale haploïde. Certaines conidies conduisent à de nouvelles colonies d'hyphes végétatives, d'autres vont participer à une reproduction sexuée. Dans certaines conditions, une souche de type sexuel A (ou a) produit une structure spécialisée de l'hyphe dont certaines cellules vont fusionner avec une conidie provenant du type sexuel opposé (an anglais, type sexuel se dit mating type). Dans un premier temps, les 2 noyaux présents dans la cellule de fécondation vont subir plusieurs mitoses synchrones. La caryogamie donne naissance à une cellule avec un seul noyau diploïde provenant de 2 noyaux de mating-type opposés. Ce noyau diploïde se trouve dans une cellule appelée asque. La méiose a lieu dans l'asque et chacun des 4 produits de méîose subit une mitose (et une seule) : on obtient finalement 8 ascospores haploïdes par asque.
---
Ci-dessous, un schéma du cycle de Neurospora crassa. (Inspiré de "THE FOUNDATION OF NEUROSPORA BIOLOGY, version sept. 2009 du site http://www.fgsc.net/Neurospora/neurospora.html et de Lévine, Génétique, Ediscience/McGraw-Hill, éd. française, 1975.)
---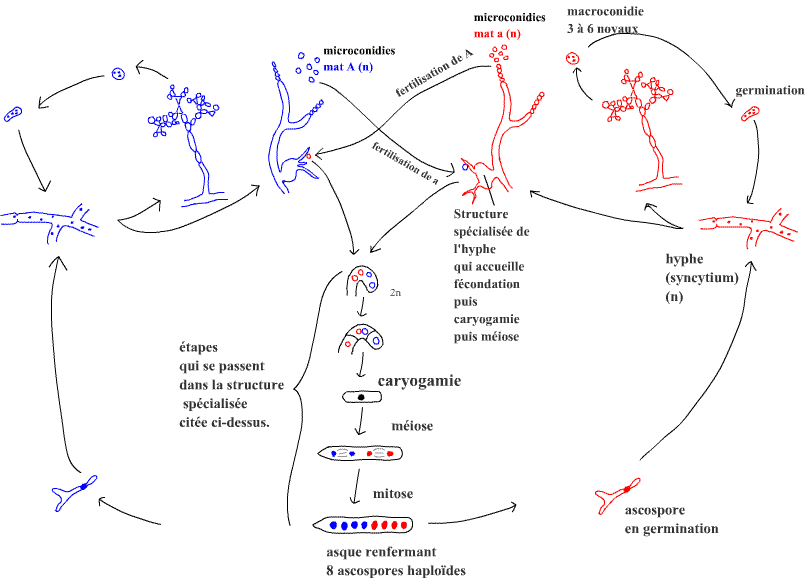 ---
Et voici quelques bons schémas tirés de "THE FOUNDATION OF NEUROSPORA BIOLOGY, version sept. 2009 du site http://www.fgsc.net/Neurospora/neurospora.html illustrant les notions d'hétérothallisme, d'homothallisme et de pseudohomothallisme.
Heterothallic means that there are two mating types that must unite to be able to go through the sexual cycle (which includes meiosis). The two mating types look identical. The two mating types are determined by alternative DNA sequences at one chromosomal locus; these are called MAT A and MAT a. These two mating type sequences are totally different, so they do not represent alleles; instead they are called idiomorphs. N. crassa is the most analyzed heterothallic species.
Homothallic means that any haploid individual strain can go through the sexual cycle by itself, without pairing with another strain. Homothallic species do not need both MAT idiomorph sequences, but in some cases one or the other can be detected in the genomic sequence. Their role is not clear. In order to be able to go through meiosis as part of the sexual cycle, a diploid nucleus must form by fusion of two haploid nuclei. Neurospora galapagoensis is one homothallic species.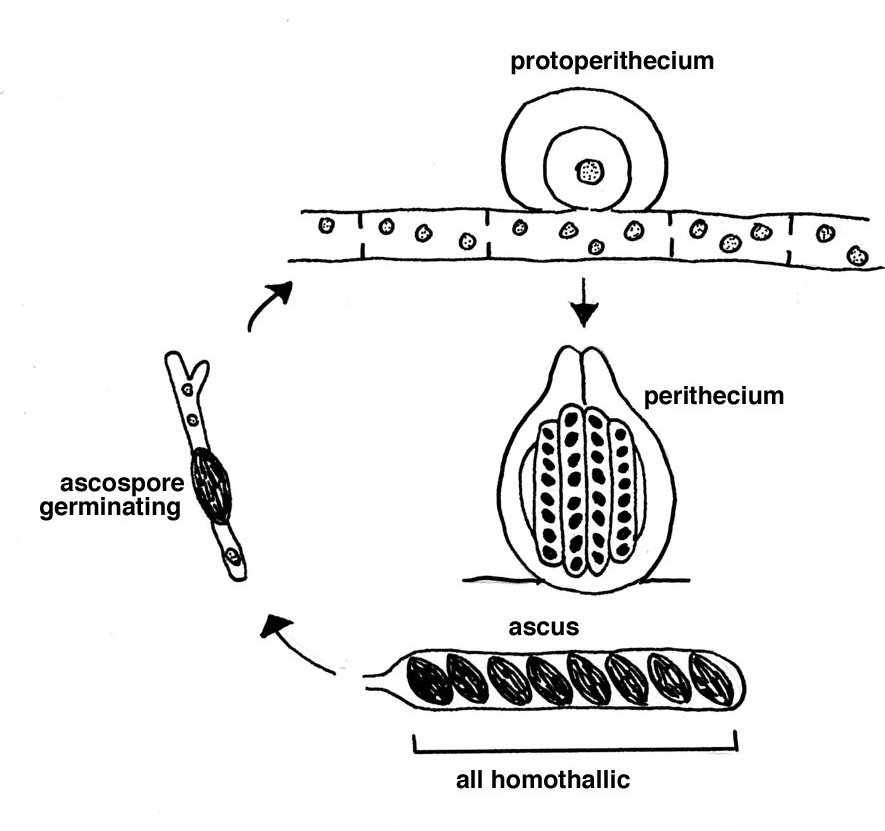 Pseudohomothallic species also require both MAT idiomorphs to complete the sexual cycle, but the nuclei that result from meiosis are packaged in such a way that one MAT A and one MAT a nucleus is included in any ascospore. Hence an individual spore will grow into a dual mating type mixture of nuclei, which has all that is necessary to go through the sexual cycle and need not pair up with any other individual to do so. N. tetrasperma is the best studied example of a pseudohomothallic species.